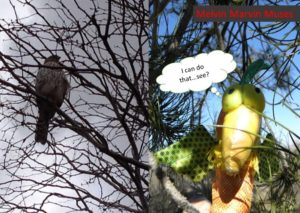 Let me introduce myself. My name is Melvin Marvin. I work as a personal muse and trustworthy companion for Marlyn Mohs. I take personal affront, I'll have you know, that the word Muse is defined as 'a woman, or a force personified as a woman, who is the source of inspiration for a creative artist.' That's bunk. Who determines that a source of inspiration must be a female? Marlyn is a writer, an aspiring author, to be exact and I am a perfectly adequate muse. I enjoy my work. The hours are long and irregular, but it's a living. I get to travel, which is a definite plus. She brings me where ever she goes. I have some difficulty answering the phone. Consequently, I keep permanent residence in her purse.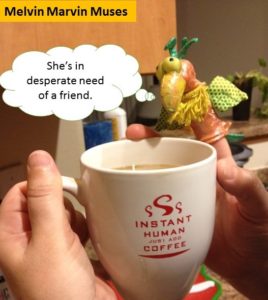 I enjoy reading, when I'm not working. I also enjoy coffee, sunny skies, and bananas. Is that relevant? Marlyn depends on me. She says I'm a good listener. Not that I have much choice. It is disturbing that she asks a question and then answers the question. Oddly, her response is just what I was thinking. We are connected that way. Special.
It's time for our morning coffee. Marlyn needs some help with Book Two of the Journeymen series. I don't get it. Why can't I have my own cup?