Practiced Indifference
Trapped in the conundrum of daily tasks and chores, its so easy to lose touch with the reality of our world. The burden of guilt hovers over me, a menacing shadow, as I struggle through my life, my face turned aside, using the preoccupation of meeting my needs as an excuse to ignore the vast suffering and poverty that exists out there…in the world. Handy phrases come to mind that support my practiced indifference, such as "Put yourself at the top of your to-do list and everything else will fall into place." "If you can't fix yourself, you won't be able to fix anyone else." "Fix the hole in the boat, before you take on extra loads." Of course, there's not much I can offer if I myself am messed up. The least I can do is be aware, be informed, and perhaps, spread the word.
Poverty
I lived for eight consecutive years in North Karachi, Pakistan. Until then, I had never truly seen or experienced poverty. Sure, I had struggled to put myself through college (Thank you, Pell Grant). In pursuit of my degree, I worked as a phone solicitor for the University Alumni Association and sold my blood plasma twice a month to afford room rent and groceries. I thought I was poor. But to the poor of Pakistan, I was upper middle class. I had the opportunity to attend college and  access to some level of government assistance. I completed my BA with honors, no less. That liberal arts education has served me well, but it has never been easy. It's constant toil, buoyed by luck and skill, that allows me to skim precariously over the depths of debt. I've managed to float my boat so far, but only so long as I remain focused on my boat.
Masi Culture
My in-laws were probably middle class, at least until my father-in-law unexpectedly passed away, bequeathing all financial responsibility to my husband, the oldest son. In Pakistan, even the middle class or lower middle class can afford a Masi (a house maid). Coming from America where maids are only for the most wealthy, I at first felt confused and uncomfortable about the Masi culture. I wondered how my in-laws could afford it. I wondered how we would be able to maintain the Masi after my father-in-law's departure. That's when I realized how very little these hard working women earned.
Most Masis come from cities further north. They come south to Karachi to earn money to send back to their villages. In Karachi, they set up lodging on empty lots, building makeshift homes of fabric draped over wooden, pole frames. Their husbands take labor jobs, where they can, and their children, often barefoot and threadbare, do not have the privilege of going to school. The children's contributions to the household income are too important. The girls, young Masis in training, help their mothers clean homes. The boys walk the streets with burlap sacks over their shoulders collecting plastic and cardboard to sell, or they are placed on street corners to take handouts from passing cars.
Countless times in my daily commute, I'd pass them, young boys dirty and disheveled on the street corners the same age as my son sitting in uniform beside me, anxious for the day of school ahead. It disturbed me. I felt powerless. I would hand them my spare change in hopes that God would absolve me of guilt, small contributions that, rather than change the situation, allowed it to perpetuate.
The Masi Mentality
The Masi comes into your home for a few hours everyday. She sweeps the floor with a horizontal broom called a Jharoo. Squatting, the Masi methodically shuffles through the home sweeping the dust and daily debris ahead of her. Knowing that the Masi will come every morning, members of the household don't bother to place wrappers or food crumbs in dustbins, rather they toss them on the floor carelessly. They develop what I have coined as, a Masi Mentality, "Throw it anywhere, someone else will pick it up." After applying the Jharoo throughout the home, Masi, still squatting, wipes the floor with a used piece of fabric. She dips the fabric in a bucket of water mixed with cleaning fluid, wrings it out, and wipes each patch of the floor meticulously. How many times I wished that I had had the mop and bucket system commonly used by janitors in US. It would have relieved the Masi of this backbreaking labor.
Masi washes all the dishes and pots and pans and every other day she washes clothes, often by hand. Some Masis also cook the rice and the bread that we would use for lunch and dinner. After Masi leaves the house, her daily grind has not come to an end, she moves on to her next paying household to perform the same duties again. Our Masi, with her young girls in tow, cleaned four to five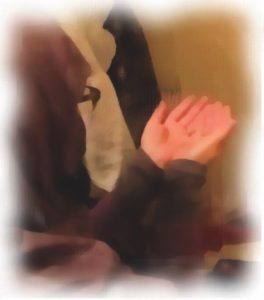 houses in our neighborhood before returning home to clean her own. Now, I sit here in air conditioning, typing on my laptop, wondering how I will pay my mortgage this month or if my latest check will arrive in time to buy groceries. I have worries, enough to bring me to tears. It is at this point that I remember Masi and her family and her daily struggles, that will likely accompany her to the grave, and I thank God for my blessings. I ask Him for strength. And I pause to whisper a prayer for Masi.